Description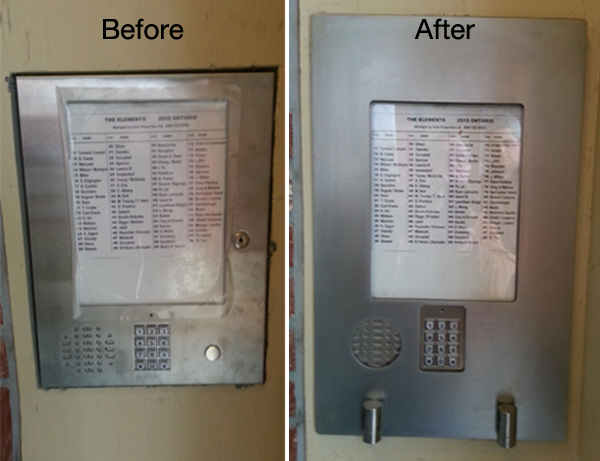 ---
For enterphones, building intercom systems, and keypad kiosks. We can fabricate a custom secure cover to protect your intercom system from vandalism and tampering. The stainless steel cover is laser cut and custom made to order to provide protection for any style of enterphone you have.
Finishes available include an elegant brushed stainless finish or we can powder coat the cover to match your buildings aesthetics. High security locks are installed with the cover to ensure it is accessible to service the intercom system as needed.
---
Stop Intercom System Break-ins to Your Building
Thieves will pry open intercom covers and essentially "hotwire" their way into your building by energizing the electric strike or maglock controls inside the panel with a simple twist of wires. Once inside the building, thieves break into vehicles, mailboxes, and even suites. In the last couple years, large mailbox banks inside apartment complexes and high rises are of particular interest due to the rise in identity theft.
There are a wide variety of intercom systems available, and a number of ways in which they may be installed in the wall outside your front door – this is why there are no standard security covers for entry phone systems, and why most are unprotected against break-ins.
We custom fabricate each one to fit both your system and the installation requirements.
---
Other Intercom and Mailbox Security Upgrades
---
Specifications
Fabrication Materials: Heavy gauge stainless steel
Size: Various, depending on intercom and installation type
Installation: Following initial installation, accessing the intercom panel for service or repair is done easily by simply unlocking and removing the security cover.
---
Item Number
SKU: 112311